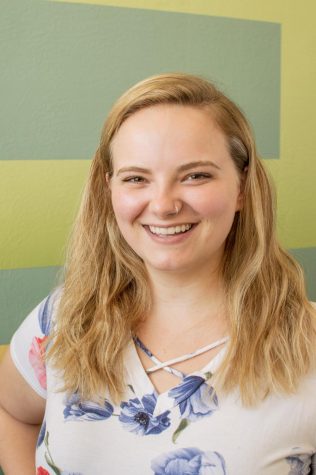 Favorite food: Spaghetti or any kind of potatoes
Favorite book/magazine: As cliche as it is, I love Cosmo and People magazines. I also love reading YA fictions and romance novels.
Dream job: PR package designer for a big cosmetic company/brand
Favorite movie: The Proposal for laughs or The Blind Side for tears. I kinda LOVE Sandra Bullock.
Currently watching: I binge-watch baking shows on Netflix and Euphoria on HBO. SO GOOD!
Music of choice: Country, pop, classical instrumentals, or indie/alternative. It changes with the seasons.
Megan is a senior Communication/AdPR major with a graphic design minor who has been a member of the SE Student Publications since Fall 2017. She has served as staff writer, News Editor, and is now the Managing Editor. When not working on The Southeastern, Megan enjoys relaxing with her dog, creating videos for her YouTube channel, and experimenting in the kitchen. This year, she looks forward to growing The Southeastern, running the Student Media Society organization on campus, and focusing on her professional portfolio. Follow her on Twitter @MeganMcFarland7
Megan McFarland, Managing Editor
Oct 28, 2019

Controversial campus visitor draws in crowds

(Story/Media)

Oct 18, 2019

Fighting campus hunger

(Media)

Sep 06, 2019

President Sean Burrage to resign from SE

(Story)

Jan 18, 2019

Be the difference in Durant

(Media)

Dec 09, 2018

Finals tutoring schedules

(Media)

Nov 05, 2018

House and Senate breakdowns

(Media)

Nov 03, 2018

Is there somewhere for non-traditional students to go and not feel out of place?

(Media)

Nov 03, 2018

What is one of the best ways to give back to the community while being involved on campus?

(Media)

Nov 01, 2018

New LGBTQ organization on campus to host Drag Show in November

(Media)

Oct 16, 2018

Women in Entrepreneurship Seminar

(Story)

Oct 16, 2018

Wait…there's no Fall Break!

(Media)

Oct 08, 2018

Homecoming activities scheduled for Oct. 11-13

(Media)

Oct 06, 2018

What are the most secluded and quiet spots on campus to study?

(Media)

Aug 30, 2018
May 08, 2018

The Holisso 2017-18

(Media)

May 02, 2018

Life's a breeze at Tiki G's

(Story/Media)

May 02, 2018

Southeastern's Hawaiian escape

(Media)

Apr 09, 2018

What you need to know about Springfest

(Media)

Apr 09, 2018

SE's Lambda Chi Alpha fraternity suspended for five years

(Story/Media)

Apr 09, 2018

What's new in Durant?

(Media)

Mar 09, 2018

Spring Break on a budget

(Media)

Mar 06, 2018

'Black Panther' hits the theaters, hearts and minds of the nation

(Story)

Mar 05, 2018

2018 Higher Education Day at OK capitol

(Story)

Nov 15, 2017

Southeastern closes the season by beating ECU in the 'Hundred Year War'

(Media)

Nov 02, 2017

Northern California in ashes

(Story)

Nov 02, 2017

President's Corner: Safety is Top Priority when Winter Weather Strikes

(Media)

Oct 09, 2017

Peter and the Starcatcher: a trip back to childhood

(Story/Media)

Sep 19, 2017

Let the games begin: Homecoming 2017

(Story/Media)

Sep 08, 2017

Help in the wake of a storm

(Story/Media)

Sep 07, 2017

Southeastern saw a large student enrollment increase for fall 2017

(Story/Media)