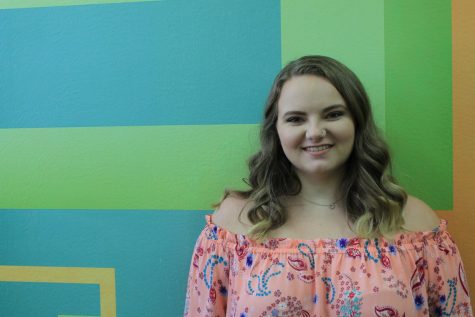 Name: Megan McFarland
Favorite Food: Spaghetti, sour candies, Hibachi and Kit-Kats
Favorite Book/Magazine: There are too many to pick from!
Dream Job: Magazine Editor or book editor.
Favorite Sports: Golf, soccer, and baseball.
Currently Watching: Stranger Things 2 and Black Mirror.
Music of Choice: Pop, Christian, Country, or anything Elvis.
This year Megan looks forward to acclimating to Oklahoma life and meeting new people.
Megan McFarland is a sophomore Communication major who has been a member of SE Student Publications since Fall 2017. She has served as a staff writer. When not working on The Southeastern, Megan enjoys reading, watching movies, and DIY. Follow her on Twitter: @MeganMcFarland7
Megan McFarland, Staff Writer
May 02, 2018

Life's a breeze at Tiki G's

(Story/Media)

May 02, 2018

Southeastern's Hawaiian escape

(Media)

Apr 09, 2018

What you need to know about Springfest

(Media)

Apr 09, 2018

SE's Lambda Chi Alpha fraternity suspended for five years

(Story/Media)

Apr 09, 2018

What's new in Durant?

(Media)

Mar 06, 2018

'Black Panther' hits the theaters, hearts and minds of the nation

(Story)

Mar 05, 2018

2018 Higher Education Day at OK capitol

(Story)

Nov 15, 2017

Southeastern closes the season by beating ECU in the 'Hundred Year War'

(Media)

Nov 02, 2017

Northern California in ashes

(Story)

Nov 02, 2017

President's Corner: Safety is Top Priority when Winter Weather Strikes

(Media)

Oct 09, 2017

Peter and the Starcatcher: a trip back to childhood

(Story/Media)

Sep 19, 2017

Let the games begin: Homecoming 2017

(Story/Media)

Sep 08, 2017

Help in the wake of a storm

(Story/Media)

Sep 07, 2017

Southeastern saw a large student enrollment increase for fall 2017

(Story/Media)