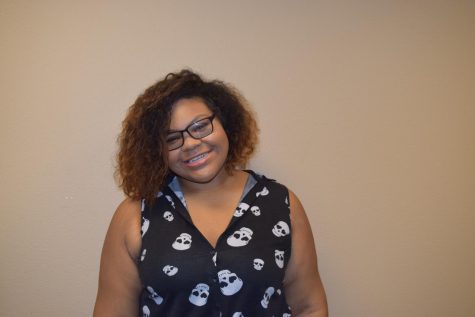 Favorite food: Chicken Alfredo
Favorite book/magazine:
Man's search for meaning
Dream job: Rich people person
Favorite movie: P.H.A.T. Girls
Currently watching: Nothing...
Music of choice: Anything and everything really. Right now, it's Rob Zombie.
Jerai is a Communication major (emphasis in Advertising/Public relations) and a minor in journalism who has been a member of the SE Student Publications since Fall 2016. She has served as staff writer. When not working on The Southeastern, Jerai enjoys chilling with her friends and being involved on campus. This year, she looks forward to meeting more people and doing more on campus.
Jerai Billy, Staff Writer
Jan 24, 2019

First SGA meeting brief

(Story)

Nov 02, 2018

Breast Cancer Awareness

(Story)

Oct 16, 2018

Wait…there's no Fall Break!

(Story)

Sep 26, 2018

What's all the HOOPLA about?

(Story)

Sep 17, 2018

SE alumni returns to demonstrate skills for graduate program

(Story/Media)

Sep 10, 2018

September reminds us the importance of suicide awareness

(Story)

Aug 27, 2018

New students, new activities, new memories.

(Story)

May 02, 2018

Southeastern's Hawaiian escape

(Story)

Apr 09, 2018

105th Annual Oklahoma Inter-high school Curriculum Meet

(Story)

Mar 06, 2018

Six hundred middle school and high school students participate in Super Saturday

(Story)

Jan 23, 2018

Alleged "shithole" slurs from President Trump

(Story)

Dec 13, 2017

Christmas tradition continues at Southeastern

(Story/Media)

Dec 01, 2017

Safety issues at Southeastern

(Story)

Nov 13, 2017

Not your grandfather's flute music

(Story)

Nov 02, 2017

Tragic Opera ends with rave reviews

(Story)

Oct 25, 2017

Jenny Delaughter's 'Light, Show the Way' Series at VPAC

(Story/Media)

Oct 16, 2017

Osage Nation water dispute: A matter of tribal sovereignty

(Story)

Oct 09, 2017

Take Back the Night March and Candlelight Vigil

(Story)

Feb 27, 2017

Kahoot-Scientist and Inventors

(Story)

Dec 13, 2016

95th annual Candlelighting at Southeastern

(Story)

Dec 02, 2016

Women in office after Hillary's loss

(Story)

Oct 18, 2016

Students attempt to "Escape the Night" at Residence Life event

(Story/Media)

Oct 06, 2016

Students "Take Back the Night" in domestic violence awareness march

(Story/Media)

Sep 20, 2016

American Indian Science and Engineering Society hopes to increase membership

(Story)

Sep 20, 2016

Musical Arts Series presents Jonathan Yarrington and Kate Stubbs

(Story)

Sep 08, 2016

SE merchant fair showcases Durant

(Story)