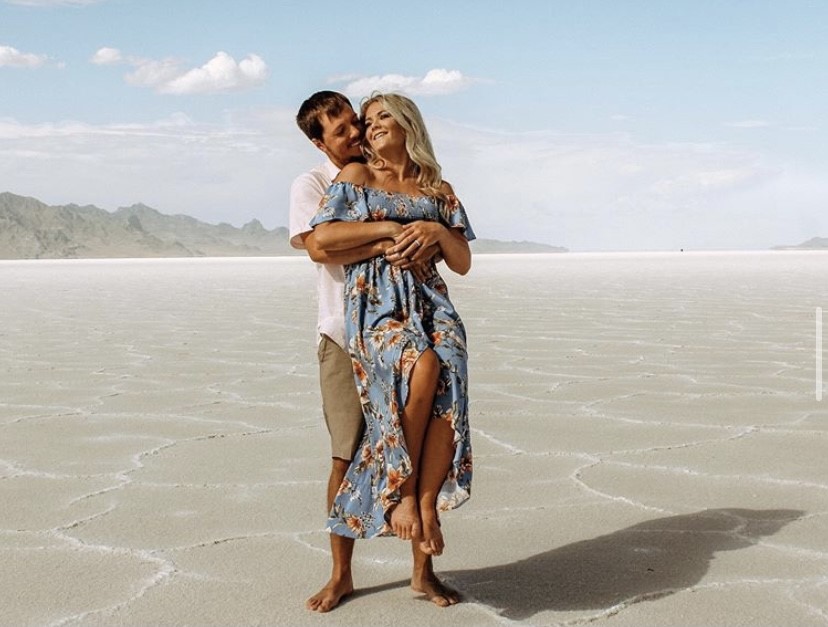 Mallory Langley
Mallory Sykora Langley recently returned from a once-in-a-lifetime summer of traveling. At only 24 years old, she has traveled to 42 states and visited more than 10 national parks. Thirty-eight of these states were visited over four months and 19,000 miles on the road.
Mallory has always been an outgoing person. In high school, she was a leader in many student organizations and was known for her bold personality. "When we were in school, Mallory was a very outspoken and confident person. She was very smart," said former classmate Enrique Salas.
She was an all-around student, a member of the National Honor Society, 4-H club, student council, and an athlete on the basketball, cross country and track teams.
Valedictorian of her graduating class, she originally planned to attend the University of Oklahoma, where she was offered a Navy ROTC scholarship. However, Mallory decided to pursue a different type of education and become a cosmetologist
Mallory wrote this unique chapter of her life story when she and her husband, Dalton, a safety inspector, decided to leave their normal lives behind and travel the country. "Dalton lost his job because of COVID, and I'm blessed to have a job that I can take a few months off  from and still come back," Mallory said. "So we decided to take this time and take a risk and travel."
On June 13, with the contents of her closet packed in the back of a pickup, she and Dalton hit the road.
Their first destination was Sedona, Arizona. There, they camped and hiked for two days. This was the first of the 96 miles Mallory would hike over the summer.
Next, Mallory and Dalton traveled to the Grand Canyon, where they watched the sunrise at 3:30 a.m. and hiked five miles in and five miles out. They then drove to Horseshoe Bend.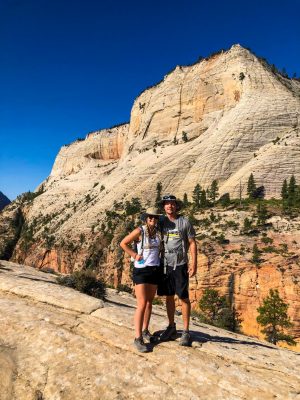 They began tent camping in Zion National Park on June 20 and spent a few days hiking. "I love dispersed camping. You're roughing it fully and can stay as long as you want and leave when you want," she said.
Mallory and Dalton took a brief break from life on the road at the end of June, returning to Oklahoma for her youngest sister Mandy's graduation and staying to celebrate the Fourth of July.
 By July 15, the Langleys found themselves in Colorado, camping in different national parks, visiting Crested Butte and Blue Lakes Trail and hiking wherever they stopped.
Later that month, Mallory and Dalton drove to Utah to see the Bonneville Salt Flats. There, they stopped for a breathtaking photoshoot. "When we got to the Salt Flats, there was like, nothing. There was a gas station," said Mallory. "People were driving out onto the flats and parking. There was even someone doing donuts!" she exclaimed.
After spending some time at the Salt Flats, they visited Great Salt Lake. "Utah was a really unique place," she said. "It's not something like you would ever see in Oklahoma."
In August, Dalton's brother and sister-in-law flew out to hike with them in Yosemite National Park. From there, they traveled to Lake Tahoe before going home for a few weeks.
The second and shortest part of their summer road trip was the most meaningful to Mallory. In September, they set out for the East Coast. Along the way, they visited parts of Louisiana and Georgia, and stopped in Florida at Harry Potter World, one of her favorite places.
While in Alabama, she and Dalton stopped to catch up with William Pippin, a former staff member from her high school. Pippin and his wife frequently host guests from Oklahoma, and he always makes sure to post a selfie with them to commemorate the occasion. "That was neat, getting to visit him," Mallory said. "We timed it perfectly though, because the next day after we left, a hurricane hit and we were able to pretty much miss it."
Her next favorite stop was Amesbury, Mass.. There, she went apple picking, sampled coffee shops and breweries and played lots of marbles.
"My papa was making each of the grandkids their own marble board, but he passed away before he got to me and the younger grandkids. So this summer, my uncle Craig made marble boards for the rest of the kids. We took ours everywhere with us. We added a sticker to the back for every place that we played. It kind of documents our trip." Currently, her marble board is decorated with 19 stickers.
On Sept. 30, Mallory celebrated turning 24 with a hike in the easternmost town in the U.S.. On their Instagram travel page, @langleysgetlost, she wrote, "Woke up in Lubec, Maine and drove to Quoddy Head State Park and watched the sunrise! Such an awesome experience!"
Mallory added that she and Dalton could see Canada from their hotel room, and that she believes they were the first people in the United States to see the sunrise that morning.
While in the Northeast, they saw the Adirondack Mountains. "My favorite place was the Adirondacks in New York," said Mallory. "We were there right as the leaves were changing and it was just so beautiful with all the colors. It was everything you could ever imagine fall should look like. I felt like I could stay there forever."
Back at work behind a salon chair, Mallory remarked, "A lot of people thought we were crazy."
However, her life is back to normal. "I don't think we'll be taking another month-long vacation," she added. "We're back for good now."