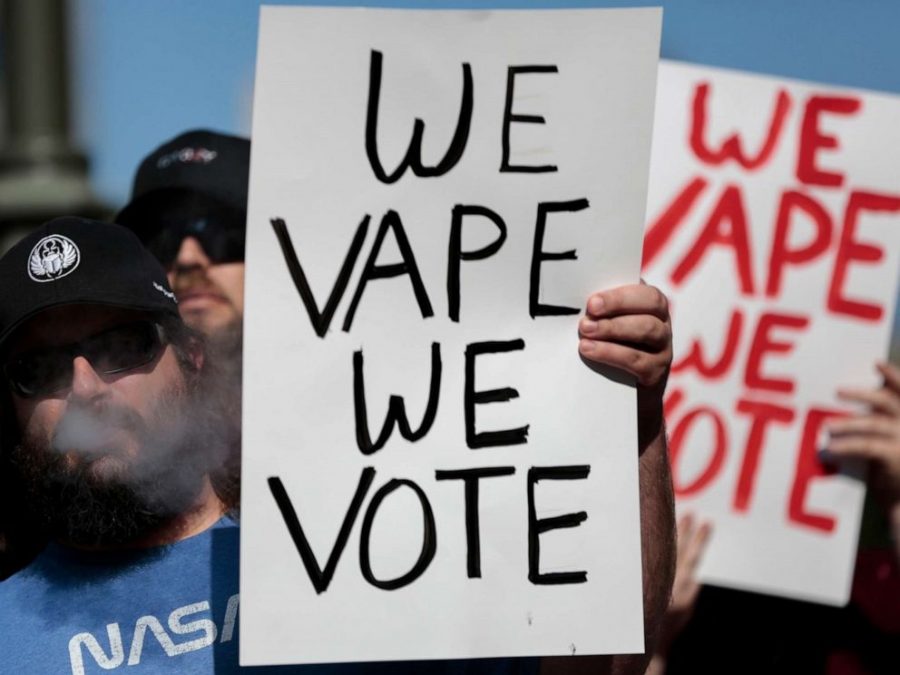 Joshua A. Bickel/The Columbus Dispatch via AP
On Saturday, November 9 hundreds of members of the vaping community rallied to protest the impending flavored vape ban announced by President Trump. Protesters held signs stating, "Make America Vape Again" and broke into chants declaring, "We vape, we vote!"
The electronic cigarette industry has come under fire following a series of mysterious deaths surrounding lung diseases connected to users of e-cigarette products. In response, the Trump administration took steps to issue a ban on flavored e-juice to dissuade children from trying trendy tobacco products.
This decision could prove catastrophic to e-cig companies as much of their inventory will now go to waste, and they could potentially lose a majority of their consumer market.
The protesters included vape shop owners and e-cig users, many of whom who would identify as Trump supporters feel the President is infringing on their rights to legally smoke their favorite e-cig flavors. They claim that their sales have declined over the last three months, with many shops' profits dropping as much as 30 percent, according to 2019 survey conducted in Washington, D.C.
What does this mean for the upcoming 2020 election? In the midst of this decision to ban flavored e-cig juice, many Trump supporters are debating leaving Trump behind in favor of another candidate. In a 2016 Pennsylvania poll, over 70 percent of Trump voters throughout the U.S. used e-cigarettes. These numbers are expected to drop, but that depends on how the Trump administration proceeds with the banning of flavored e-liquid leading into the 2020 election.
President Trump has maintained a 35 percent approval rate amongst states that are primarily "red" including Oklahoma, Kentucky and Kansas. With Trump's new law coming into effect, there is now a stronger than ever chance that the voters of these states could swing in favor of Trump's Democratic opposition in the coming 2020 election.