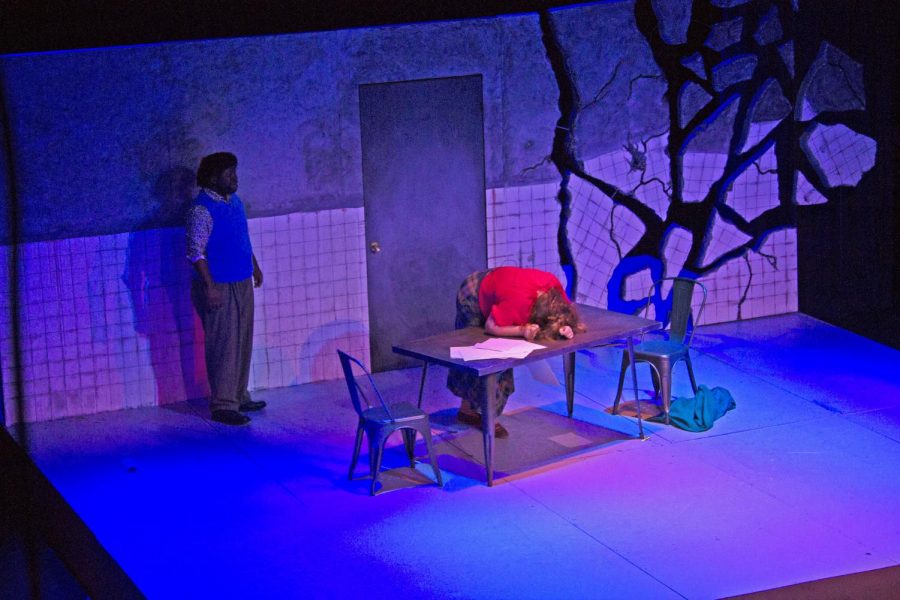 Derek Dophied
Based on a true story, We Will Not Be Silent, a play written by David Meyers, made its Oklahoma debut at Southeastern Oklahoma State University's Montgomery Auditorium on Thursday, October 3. This is a new script from Meyers and SE is the first college to produce the show.
The play was directed by Riley Coker and places the audience within an interrogation room in 1943 Germany after leaders of The White Rose have just been arrested. The White Rose, whose objective was to peacefully stop the Nazi party by convincing the German people to rise up and resist the socialist regime, was one of several resistance groups against Hitler and his regime at the height of his power.
We Will Not Be Silent centers around the interrogation of a young college student, Sophie Scholl, played by sophomore theatre acting major Karlie Carr, following the arrest of her and her brother, Hans, portrayed by senior musical theatre major Antavius Draughn, for distributing White Rose's anti-Nazi pamphlets across Munich, Germany.
Her interrogator is Kurt Grunwold, played by SE Junior Acting and Directing major Tyler Campbell, a decorated soldier of the Third Reich whose sole purpose is to receive a confession from Carr, by any means necessary.
During the interrogation period, the dynamic between the two characters often shifts from casual and understanding to brutally aggressive, to eerily sympathetic as the audience delves deeper and deeper into the character's psyche and motives behind their actions before and during the war.
We Will Not Be Silent is a play about college students taking a stance again tyranny, so it is only fitting that this play would make its Oklahoma debut on a college campus. Campbell describes the story as, "One that everyone should hear, but college students are really the ones that will understand how powerful this story really is."