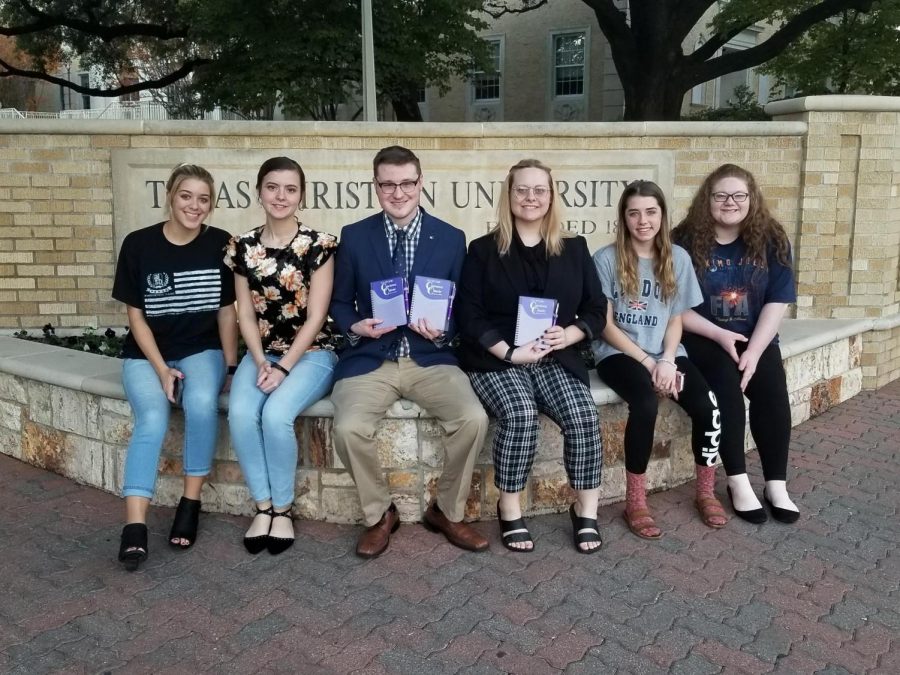 Courtesy photo of Dr. Randy Clark
Durant, OK— The Southeastern Speech and Debate Association reached the semifinals in Parliamentary Debate at Texas Christian University's Cowtown Classic Swing Speech and Debate Tournament, October 26-28 in Fort Worth, Texas.
The forensics tournament featured varsity National Parliamentary Debate, International Public Debate Association and all 11 American Forensics Association National Individual Events.
Jacob Morrison, junior political science major; Hannah Nunley, freshman political science major; MacKenzie Trammell, freshman chemistry major; Reagan Benson, freshman aviation major; Jillian Parson, freshman aviation major and Emily Wheeler, freshman chemistry major debated and competed in individual speaking events versus competitors from 17 different colleges and universities.
Morrison from Durant, OK and Nunley from El Campo, TX reached the semifinals in the Parliamentary Debate competition. The team of Morrison and Nunley amassed a five and zero record through the preliminary rounds earning them a third seed in the semifinals. However, the duo would lose in a split decision to the eventual tournament champions from the University of Texas at El Paso.
Morrison also competed in both Extemporaneous Speaking and Impromptu Speaking earning a respectable fifth place finish in Extemporaneous Speaking. Nunley, who also competed in Extemporaneous and Impromptu Speaking finished the competition with a well-earned eighth place finish in Extemp. This was Nunley's first away tournament.
Benson, from Paris, TX, competing in her first forensics competition as a member of Dr. Randy Clark's Business and Professional Speaking class this Fall finished the tournament ranked 21st in Extemporaneous Speaking out of 49 competitors.
Dr. Clark said, "The team faired very well for our first tournament away from home. It's what I've come to expect from Morrison but Nunley was also exceptional in her first tournament. She has a bright future. She's a star. I'm especially proud of the competitors from the B&P Honors course who have been working very hard all semester in an effort to prepare themselves for the grind of a tournament weekend. It is remarkable and a testament to the talented students of Southeastern how Reagan who has no experience performed at the tournament. She is a natural. If she wanted to compete in forensics she would take competitions by storm. No pun intended."
SSDA's next forensics tournament will be the Christmas Classic at Oklahoma City University in Oklahoma City, OK, November 30-December 2, 2018.
To learn more about Southeastern's intercollegiate forensics program and SSDA's tournament schedule visit the Department of Art, Communication and Theatre website at http://homepages.se.edu/comm or contact Speech and Debate Advisor Dr. Randy Clark at ext. 2556.