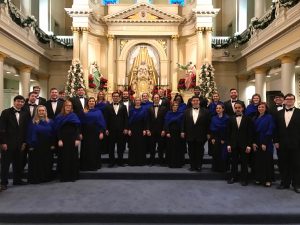 SE Chorale
The Southeastern Chorale's annual fundraiser is Saturday, Sept. 22. The Disney-themed night begins at 6:15 p.m. It will include a silent auction, a four-course dinner, entertainment by the SE Chorale and a homemade dessert auction. Tickets for the event are $30 and can be purchased by calling Mrs. Joanna Nannestad, at 580-754-2088.
Haley Moore, a senior music education major, said, "This will be my fourth year being a part of the Southeastern Chorale fundraiser. The most exciting part of this event is getting to perform with my colleagues for such a great audience. The fundraiser is a great opportunity to showcase our abilities to our community."
The Southeastern Chorale is SE's most prestigious touring ensemble. According to their webpage, "The Southeastern Chorale tours annually into area schools, having performed in over 100 schools in Oklahoma and Texas in the past 10 years in support of music education. Regional tours in the United States have included performances in Dallas, TX, Austin, TX, Jackson, Miss., Oklahoma City, Okla. and New Orleans, La."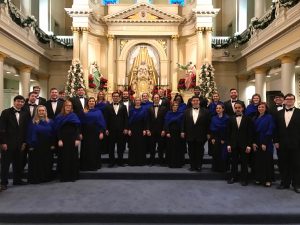 Each year during Christmas break, between 18-30 students travel to promote the music program. The vocal students amazing performance opportunities that better prepare them for the professional performance world. Life-changing opportunities like these aren't cheap! Luckily Dr. Stacey Weger and the hard work by the SE Chorale, they almost always earn the necessary funds to go on tour.
This year's silent auction is full of gift cards, handmade quilts, a meat smoker, hotel stays, cabin rentals, jewelry, furniture, spa treatments and much more. These items have been graciously donated from businesses all over Texas, Oklahoma and Arkansas, as well as by the families of chorale students.
The students of the SE Chorale will also be serenading guests as they enjoy a meal with song selections from Walt Disney's most famous movies: Cinderella, Snow White, The Hunchback of Notre Dame, the Princess and the Frog, Moana, Frozen and many more works their contributing guests will love.
According to Mitch Barnett, a sophomore psychology major who's been a part of the fundraiser for three years, "My favorite part of this event is getting to bring community members and family together in order to take part in our hard work."
Carter Owen, a junior vocal performance major, said his favorite aspect of the is, "Is strengthening my relationships between myself and my choir members. Between baking, going business to business hunting donation items, selling tickets and rehearsing with each other for our musical numbers— it truly is a great experience."
The Southeastern Chorale would like for you to join us for this day of celebration, food, Disney, and fund-raising. According to Chorale's Haley Moore, "It's $30 a ticket, sure, but you'll be fed, entertained and who doesn't love Disney?"