Empowerment Begins with You
Hang on for a minute...we're trying to find some more stories you might like.
If you are a famous celebrity and you have not been seen on a magazine in YEARS, how do you embrace your comeback? Musician Christina Aguilera, poses with no makeup. The 37-year old singer posed for the Paper Magazine published on March 26th and she was not afraid to show true beauty behind the makeup.
In the photoshoot, you can see Aguilera with no makeup but also shows her with it, proving that there is nothing wrong with loving both. Society has been expected to live to these drastic expectations to have the perfect face with makeup and it can make some not want to walk outside without it.
Women and even men now, all hear the same thing. They hear, "you don't need that makeup," or "you are beautiful for who you are," but what some do not understand is that some people do it to make them feel good or simply because they like it.
In the interview, Aguilera discussed about embracing her "raw beauty," saying, "I've always been someone that obviously loves to experiment, loves theatrics, loves to create a storyline and play a character in a video or through stage.
She continued, I'm a performer, that's who I am by nature. But I'm at the place, even musically, where it's a liberating feeling to be able to strip it all back and appreciate who you are and your raw beauty."
For being a woman that embraces herself for who she is, with freckles and bright blue eyes, Aguilera is not afraid to say that she loves her beauty cosmetics. Aguilera told Paper, "I mean, I'm a girl that likes a beat face, let's not get it twisted," and there is nothing wrong with that statement.
Christina Aguilera proves that time and time again, it is okay to love yourself and how you look. She also showed that there is nothing wrong in putting your makeup on. Throughout her photoshoot, she began with her bare skin and slowly adding her strong charismatic makeup, bold eyeshadow and lipstick.
Aguilera stated, "Be fearless in breaking new boundaries and don't be afraid to go against the grain of criticism along the way."
Feel empowered to know that regardless of what society expects out of us, we are beautiful in our own way. Never be afraid to step outside the box.
About the Writer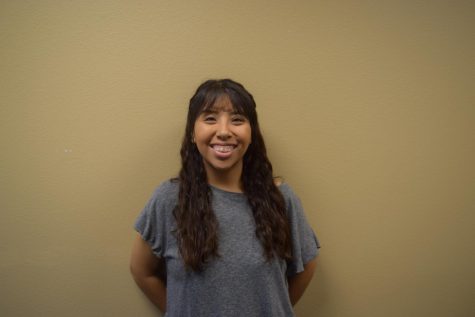 Johanna Cornejo, Staff Writer
Favorite food: Chinese

Favorite book/magazine: I am Legend

Dream job: Music Journalist

Favorite movie: Sherlock Holmes

Currently watching:...