Speech and Debate: a 105-year Tradition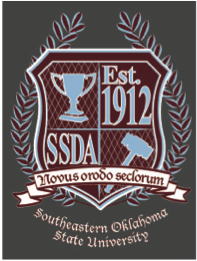 Hang on for a minute...we're trying to find some more stories you might like.
Durant, OK—For the past 105 years, the Southeastern Speech and Debate Association (SSDA) has been a standard of excellence in expressing the human experience through well-crafted communication. This year the team hopes will be no different.
Joining this year's team are Taylor Broyles, sophomore; Jacob Gooch, freshman; Jacob Morrison, sophomore and captain; and Brooke Wilson, freshman.
As Southeastern's only competitive intercollegiate debating organization, SSDA competes in national, regional, and state tournaments in debate and individual event categories such as Extemporaneous, Impromptu, Persuasive, Informative, After Dinner, and Oral Interpretation—Prose, Poetry, and Dramatic. SSDA represents Southeastern both across the country and around the world. In addition, SSDA is an active member of Pi Kappa Delta, the oldest national collegiate forensic organization.
SSDA alumni include several state legislators, former members of Congress, and dozens of leaders in law, business, medicine, journalism, academia, and the arts.
The team is committed to providing students opportunities to improve their communication, writing, critical thinking, performance, and professional skills for lifelong learning and success. As members of SSDA, team members learn to debate, deliver speeches, and perform prose, dramatic and poetic literature in a competitive environment.
Speech and debate not only offers a great educational opportunity, but it also gives speech team members the opportunity to travel to other schools and meet students from all over the nation. SSDA will travel extensively throughout Oklahoma and North Texas and frequently visit the Midwest and East Coast as well. Recent tournament locations include Florida, Texas, Kansas, Missouri, Louisiana and many others. Plans are also in the works to eventually travel internationally to locations such as China, England and South Africa!
SSDA is advised my Communication faculty member, Dr. Randy Clark.