Tahitian Dance class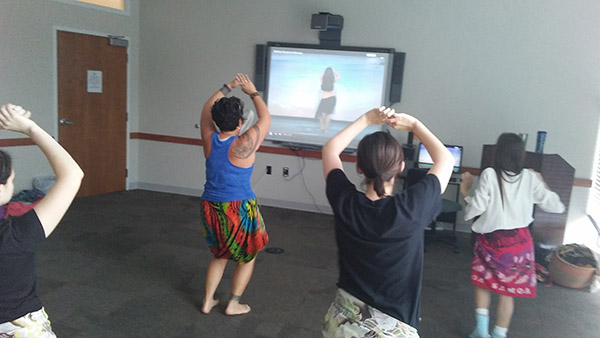 Hang on for a minute...we're trying to find some more stories you might like.
Every Tuesday, a Tahitian Dance class is taught by Gingerli Waddell, Grounds Lands Supervisor.Classes are held in the Student Union suite, 202 ,from 12:45 p.m. to 1:00 p.m.
A Tahitian Dance is a traditional dance from Tahiti characterized by rapid hip shaking motion to percussion accompaniment.
Most of the dances are videos that Waddell found on YouTube and tried out herself at home. Waddell said, "trying this at home helped me to lose inches so, I thought it would be fun to bring this dance to the campus".
Sauna Ross, Grounds Keeper, said "this is a dance that will have you feeling hot and tired."
This class averages about ten people per session, all of the dancers are allowed to wear a wrap provided by Waddell.
This past Tuesday, the class used an eight-minute dance found on YouTube. Practicing their best figure eights.
Janna Pierce, a graduate in the MBA Program, said "I encourage more people to get involved in this class. It is short, fun, free and it allows you to get an idea of other cultures."
Tahitian Dance Class is open to all people at Southeastern, including those who are not athletic but are looking for a fun and comfortable way to enjoy being healthier.